This year the University didn't give us as much time off as last year, so we had to table plans for a long trip until this summer. However, that didn't stop us from trying to cram in as much fun as possible for our spring break this year.
For the first couple of days, Wonder Boy got to enjoy some quiet time with the dogs while we were stuck at work. He was a great help around the house and I know the dogs enjoyed the extra cuddle time with their favorite teenager.
When we were finally ALL done with work and school, we started off our break with a trip to
Buescher State Park
in Smithville, TX for a family hike. We were a little disappointed to find out that many of the trails were closed due to damage from wild fires last fall, but we still managed to find a couple of trails that were still open and enjoyed breaking our hiking shoes back in. The areas of the park that were open were quite beautiful and maybe one day we'll come back once all of the trails have re-opened. However, for this day, it made for a much shorter hike than planned.
SO ... we changed out of our hiking clothes, donned some comfy shorts, and took off on a side trip to
La Grange, TX
. While there we were able to hit up a few of our favorite antique shops and a really awesome gourmet kitchen shop called
Le Petite Gourmet Shoppe
. While there we picked up some supplies we couldn't find at home and even got a recommendation on where to get a tasty lunch - Reba's Pizza & Deli. And it did not disappoint!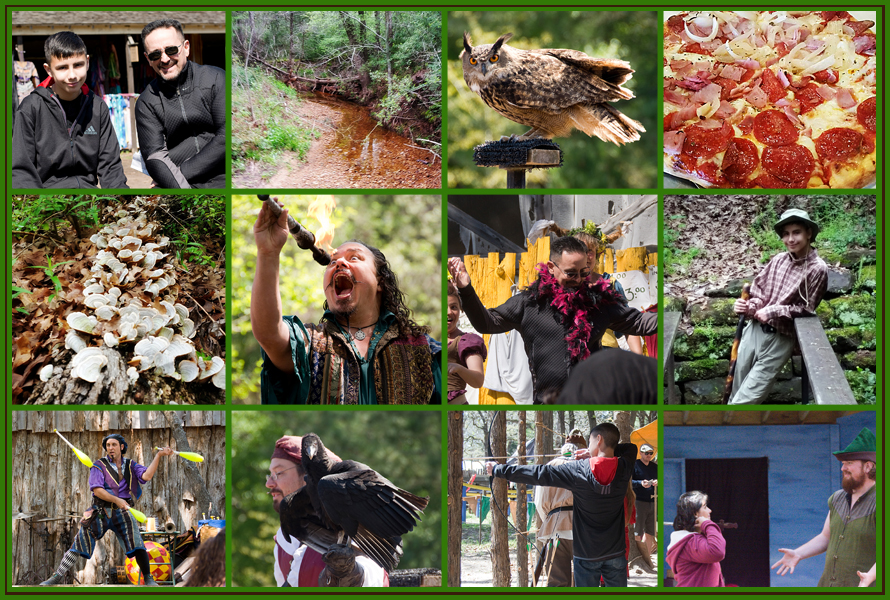 The next day, we stuck close to home to take care of some much needed yard work. I know, you can't exactly call moving a yard of bull rock and a half pallet of St. Augustine grass "spring break fun," but it was work that needed to be done and the yard looks so much better after our efforts.
To reward ourselves after a day of manual labor, the following day, we ventured over to the
Sherwood Forest Faire
in McDade, TX. A cold front moved through the night before, so while we were swatting mosquitoes and wearing shorts while in La Grange on Thursday, come Saturday we were in jeans and jackets all day long. It really made for a nice day! It wasn't so cold that it was uncomfortable to be outside and since it is rare that it is actually cold in March, we enjoyed the fresh spring air while enjoying the festival. I always enjoy the bird show and this show was no exception. There is just something about owls that always draws me in. We also had some tasty treats, got to see some fun shops, and pretty much just strolled the grounds all day long! Wonder Dad and I both got pulled on stage for various performances, but by far my favorite performers were the jugglers. We saw 2 different jugglers and both were funny and fun! Even Wonder Boy enjoyed their sense of humor and was in awe once the fire entered their acts. I really hope we can go again next year!
We rounded out our spring break with a rest day at home for a movie marathon. And while it was not the grand adventure we had the year before, this spring break was a much needed time of renewal for us all. Wonder Boy is quickly closing out his 8th grade year. He's got some tests coming up and some pretty big projects too. Wonder Dad and I are about to start our busy time of the year, so it was so nice to slow down for a few days. We got to get out and explore some. We got some work done around the house. And we did it all together as a family.
Color me one happy momma!