I am not at all sure how it happened, but this year for Spring Break Wonder Dad and I managed to wrangle a couple of days off
(at the same time)
so we could embark on a family adventure!
For those that don't know, distance in Texas is not measured in miles - it's measured in hours. And we have played out about every tourist attraction within a 2 or 3 hour radius from home. So for this family expedition, we decided to broaden that radius to include just about any spot within the great state of Texas. In the end, we chose a location to which no member of the family had yet had the chance to visit -
Big Bend National Park
.
However, getting to Big Bend from home is no small feat, so we decided to take a leisurely path and planned several stops on our way out West.
Our first big stop was at about the half-way point for day 1 at the
Caves of Sonora
.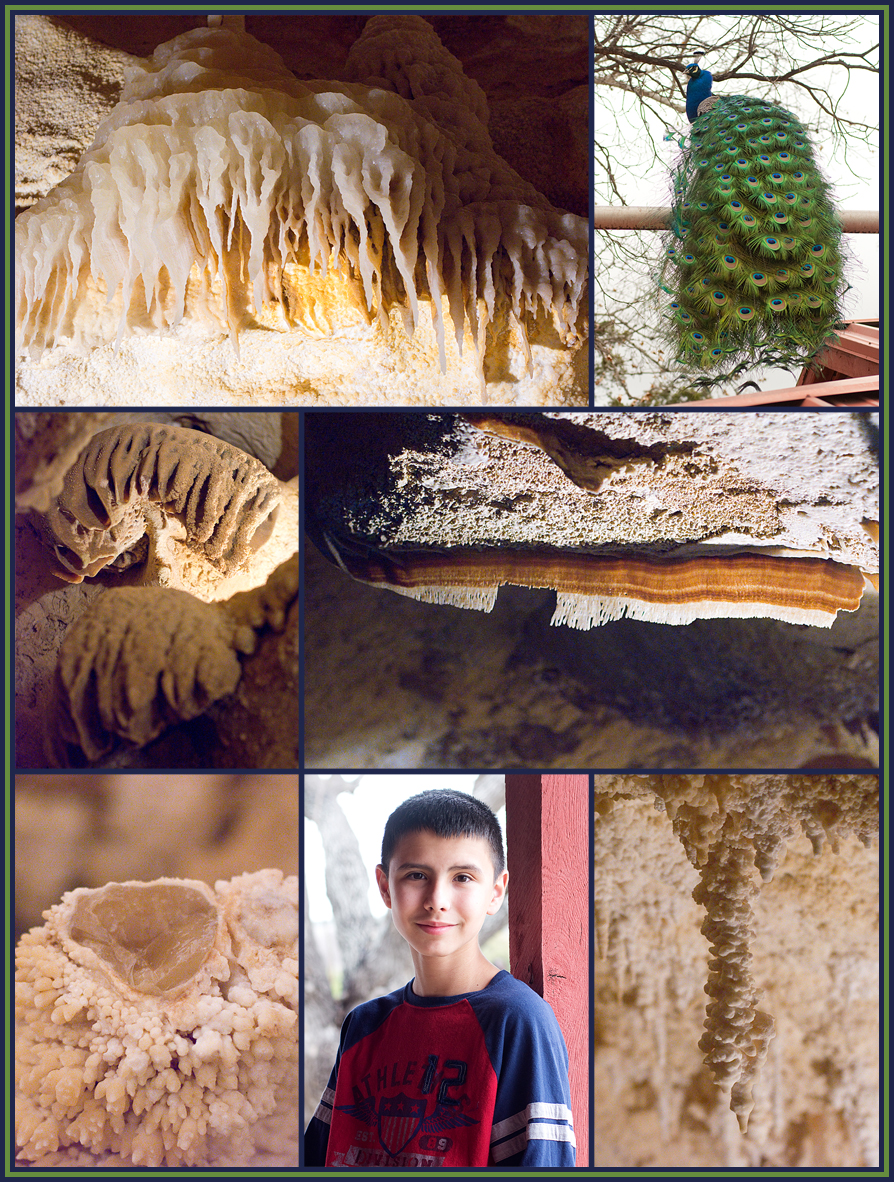 The caves turned out to be just about the perfect spot on our trip to stop, take a break from the car, and stretch our legs. Things were hopping and we had to hang around a bit before our tour started, but it gave us plenty of opportunity to check out the peacocks hanging around the grounds.
The grounds were fun, but of course, the highlight of the stop was the trek through the caves themselves. We took the "Crystal Palace Tour" which covered almost 2 miles of cave passages, taking us to a depth of 155 feet below the surface.
Unlike some of the cave tours we have taken in the past, this was a really warm cave. They told us that the air temperature was about 75F, but with the humidity nearing 100%, it felt more like 85F. It was MUCH cooler outside, but it did make for a nice walk.
If we ever come this way again, we'll have to try the "Discovery Challenge Tour" which takes you off trail passageways and even includes a rappel fifty feet into a chasm dubbed "the Devil's Pit." That's a weekend-only tour and not available on the Wednesday afternoon we came through. But it definitely sounds like fun!
After this sweet little stop, we pushed hard to make it to Alpine, TX where we made home base for our adventures over the rest of our trip (more on that in the next post).