After only being home 1 week, 7 short days, from his first sleep-over camp, it was time to pack Wonder Boy's bags again and get him started on his
NEXT
camp of the summer. For the Boy, I think it was just a week to re-charge before jumping back into some serious summer fun. For me, it was a week to soak up time with my young man, trying to get a picture of all he did on his first camp experience.
And while that week ended much too quickly for my taste, by the time Sunday rolled around, Wonder Boy was packed and ready to go with hardly a second look back.
For this camp, at least, he was housed at the University here in town. And I'll admit, it was a lot easier saying our good-byes when I knew he was not a 3 hour car ride away this time.
We checked him in to the
Youth Adventure Program
(or YAP) for six days of robotics classes (
& races!
) and a LOT of fun and time with friends (
both old and new
)!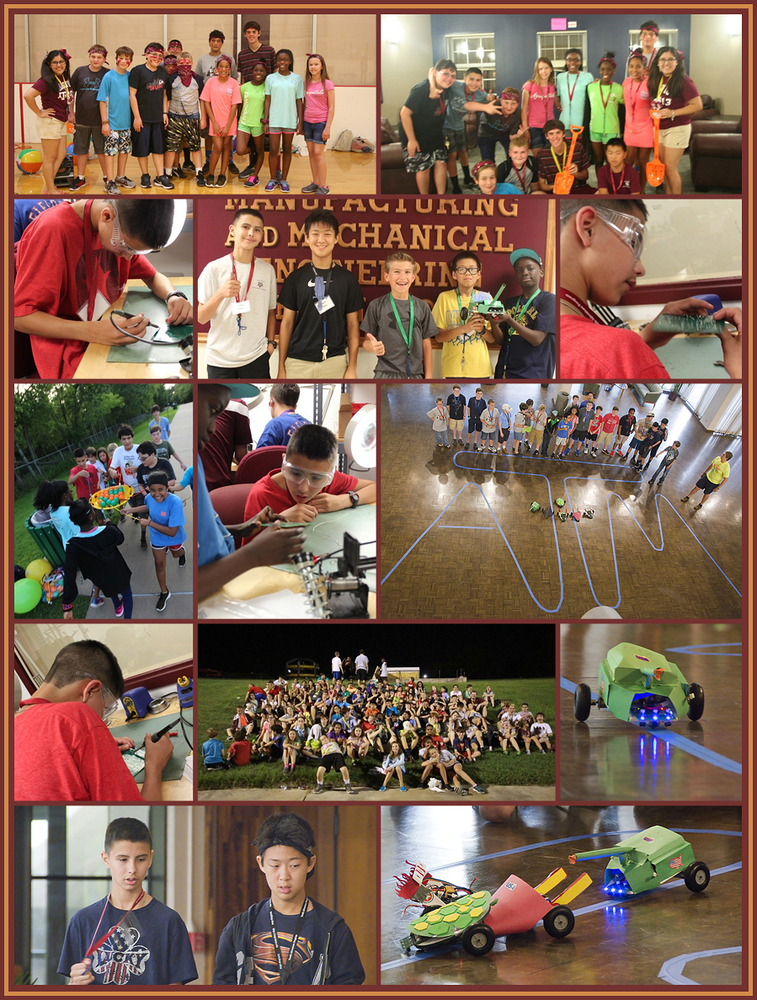 I can't answer for the Boy, but the highlight for me was the robot showcase and time trials on the last day of camp. Families and friends were invited to campus to see the robots the teams had built in only 4 short days and watch them travel a special course mapped out on the floor of the
Rudder Exhibit Hall
. Wonder Boy's team dubbed their bot "L.A.B.B.Z." and styled it to look like a tank. I was very impressed watching it run the course. The drag race was first and while "L.A.B.B.Z." was not the quickest off the line, it made a respectable run. But where it shined was on the full course. Many of the other bots got confused in tight turns and back tracked or even ended up completely off the track. But "L.A.B.B.Z." stayed the course and managed a very good time both times it ran. In the end, they finished in 3rd place. I think the guys did a
GREAT
job!
I don't know why I worried so much about sending the Boy away this summer. As you can see, he has had two really incredible experiences already! It's been an adjustment for me (now
*I*
am the one struggling through transitions), but to see how much he has matured through this process is truly a blessing. It's hard to let go, but to see him stand on his own
(and to do so well with it)
really helps me loosen that hold on him.
We don't have any other sleep-away camps planned for this summer, so I get some time now to enjoy some family time with both of my guys. But I hope we are not done with our adventures for the summer.