It's been a wild summer - both in personal and professional arenas. And to be honest, I was really starting to think that a family vacation might not be in the cards again this year. But somehow, some way ... the stars came into alignment and the guys and I managed to pull off a full week away from work!
You may recall that my goal for this year was to break away from my desk and my comfort zone to embark on more adventures. And, nearly 2/3 of the way through the calendar, I can look back and say that, as a family, we certainly made a good effort to that end. But I was still hoping and dreaming of
MORE
. So
MORE
is exactly what we set out to do!
Wonder Dad and I talked it through and decided we wanted to really push the Boy out of
HIS
comfort zone as well. So we thought taking him on his first trip out of the great state of Texas was a good way to expose him to something truly novel.
A few years before Wonder Boy came along, Wonder Dad and I took an amazingly memorable trip to New Mexico and Colorado. And that sounded like a good place to start in planning this next adventure for our family. On that last trip, we concentrated on the southwest corner of Colorado and northwest corner of New Mexico. This time we decided to explore the eastern portion of Colorado, with Colorado Springs being our home-away-from-home-base. And lucky for us, we have cousins living in the area who offered to show us around a bit!
As is always the case, clearing Texas is the toughest leg of the trip. So on our first day on the road, we didn't even attempt to approach the Texas border. Instead, we found a landing spot in the panhandle and hoped it would make for an easy drive to Colorado Springs the following day. The weather wasn't exactly in our favor and we had to endure a serious storm between Ft. Worth and Amarillo, but we made it safely to our hotel and prayed the skies would clear by morning.
The skies hadn't exactly cleared by morning, but it was only a light rain and the radar map promised a more pleasing horizon by midday. So we packed back up and bid farewell to Texas. We found ourselves crossing the state line long before lunch and we laughed and joked as the Boy took his first breath of New Mexico air. He seemed a bit underwhelmed by his time in NM, but we only skirted the northeast corner on our way to Colorful Colorado, so I wasn't worried about that at all. In fact, I think we were in NM for only an hour or two before we crossed into CO and found ourselves in the 3rd state of the day!
For a kid who spent 100% of his life to that point in only 1 state, I would think that stepping in 3 different states in one day is quite the accomplishment.
The drive up I-25 is a pretty easy one. We stopped for lunch in Pueblo and then pushed hard on to CO Springs to find our hotel and unpack. The closer we got to CO Springs, the more excited I became to get out of the car and start exploring! But after 2 days in the car, my body was crying for rest more than adventure. So I was quite relieved when the Cousins invited us for a quiet afternoon and evening at their place. And their place is just this side of Heaven! Their whole neighborhood looks like something out of a picture book. House on the side of a mountain, butting right up to a national park. I mean
REALLY
, what more do you need out of life? Well ... this amazing view came with a cool mountain breeze and great company as well.
Talk about icing on the cake!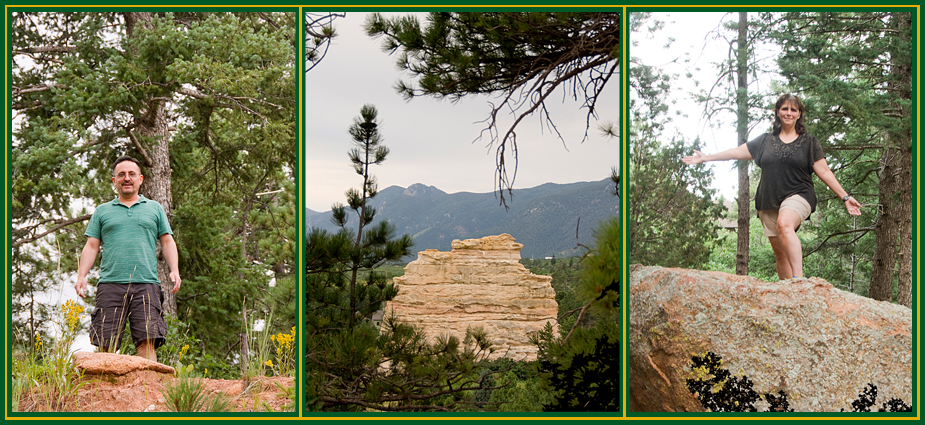 I really enjoyed hanging out and catching up a bit while the teenagers enjoyed some quality "
playstation
" time. Then we piled in the car for a tour of the incredible neighborhood. And we followed that with dinner at a local diner with
AWESOME
burgers before the sidewalks were rolled up for the evening
(seriously, everything closes early in these small mountain towns)
! It really was about as good of an end as we could have scripted to a great day beginning our visit to the CO Springs area!