It's hard to top a full morning of hiking through the
Garden of the Gods
, but our afternoon adventure proved to be pretty fun for the whole family as well. Temperatures were a bit higher than on the previous day, so we were looking for something a bit more ....
sheltered
... to fill our afternoon and the
Cave of the Winds
seemed like a good place to put that plan into action.
As a family, cave tours are something we all enjoy! We have sampled most of the big cave attractions in Texas, including the
Cave Without a Name
, the
Caves of Sonora
,
Natural Bridge Caverns
,
Longhorn Caverns
, and
Inner Space Caverns
. Though there are still a few more we hope to see in the future.
So you can understand why the
Cave of the Winds
was high on our list of Colorado Springs area "things to do" when planning our trip.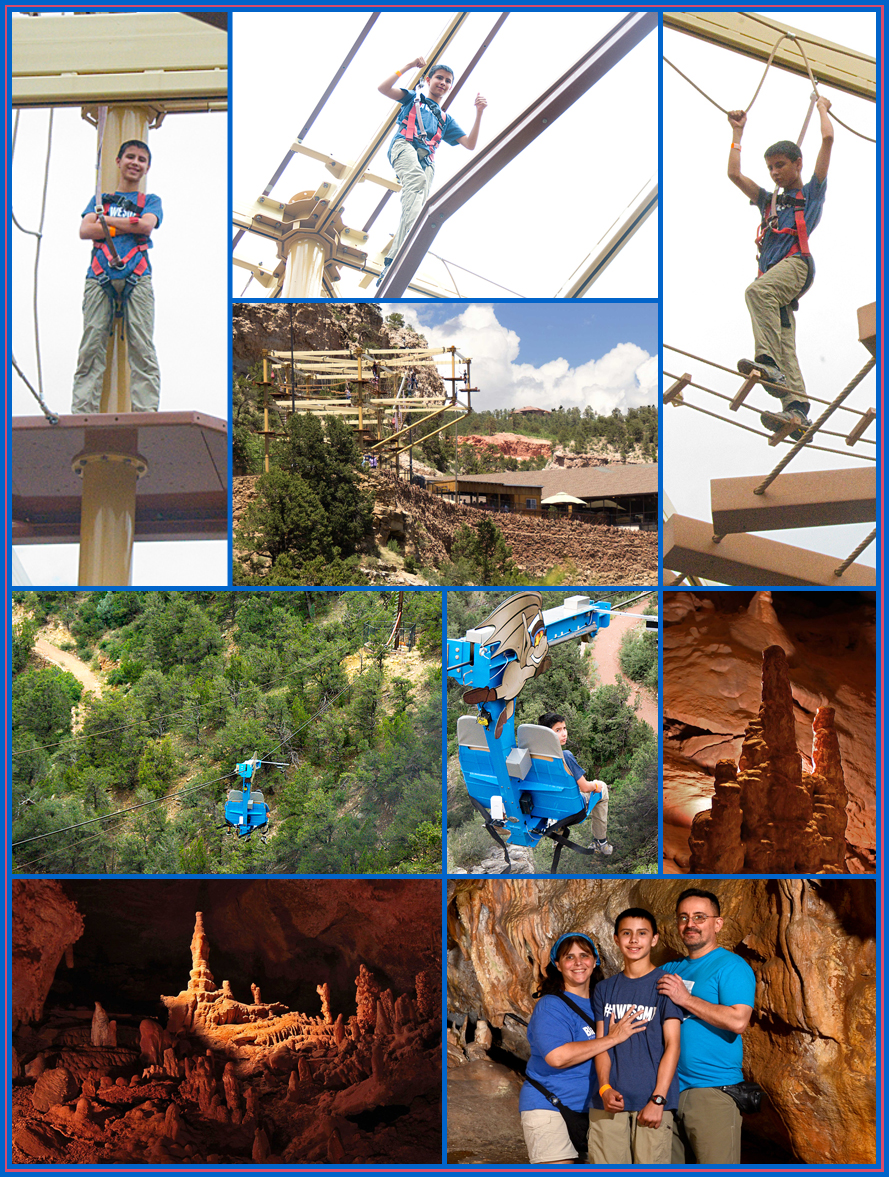 And while we all enjoyed the tour of the cave, I think Wonder Boy might have enjoyed the chance to indulge his thrill seeking tendencies a bit more. He got to ride the "
Bat-a-Pult
" which is a kind of zip-line ride that sling shots the rider over Williams Canyon at speeds of about 40 mph. The thought really didn't appeal to either Wonder Dad or myself, so we were glad there was another kid in line that needed a partner for this particular attraction. Wonder Boy always acts like it's no big deal to endure these heart thumping joy rides, but I can promise you that, even from the side lines,
my heart beat more than fast enough for us both
!
Wonder Boy also got to spend a fair amount of time on the
Wind Walker Challenge Course
, which is a three-story ropes course balanced on the rim of a 600-foot drop into Williams Canyon. And this is where I think Wonder Boy really enjoyed himself! It wasn't long before he was comfortable enough on the ropes
and secure enough in his harness
that he let go with his hands and practiced life as a tight rope walker. This lack of fear of heights is something for which I truly envy the Boy. Wonder Dad and I both have a ....
healthy respect
... for heights. And while we will both swallow that fear when needed, we see a freedom in the Boy in facing things like this that neither of us experience first hand. It's cool!
Upon finishing up our time at the
Cave of the Winds
, we decided to try our luck at the
Broadmoor's Seven Falls
and see what the fuss was all about there. Unfortunately, the falls were closed for renovations. I guess we'll have to put that back on the list of things to do the next time we visit.
After the disappointment at
Seven Falls
, we just started driving around. While tooling around, we saw signs for
Green Mountain Falls
so we thought we'd follow the signs and see where it led us. And where it led us was to a tiny little mountain town with a pretty little park. We were a little disappointed that there was no public hiking obviously available, but it was still a nice stop.
And that's kind of the thing with Colorado
- around every corner (or mountain pass), there is some pretty little place just waiting to be discovered!