As our time in CO Springs started drawing to a close, our bodies were a bit worn out from all of the hiking we had done. So on our last full day in town, we decided to treat ourselves to a train ride up to the top of Pikes Peak aboard the
Pikes Peak Cog Railway
.
Part of the reason we thought this would be a good idea was that I sometimes have trouble driving on twisty, turn-y, narrow mountain roads. And in general, Wonder Dad concurs with my sentiment in this matter. So we thought taking the train would give us a break both physically and mentally.
And it did.
Sort of.
But it also
scared the pants off of me!
Perhaps it was because of my seat assignment - I was sitting in such a manner that I could see DOWN the mountain as we rode along the track.
But whatever the cause, I found the trip up to the top to be quite a harrowing ordeal. Truth be told, I was doing all I could to avoid a full on panic attack. This really isn't normal for me. I may not like heights like our thrill-seeking Wonder Boy, but I can usually keep it under wraps for as long as need be to get me through whatever we are doing with little more than a pounding heart beat. Unfortunately, that was not the case on this trip.
ANYWAY ... because I couldn't bring myself to take my hands off of my seat long enough to point the camera at all the pretty places around us, all of the pics from the first half of the trip were taken by Wonder Boy. Thankfully, he is getting very comfortable with my camera and has a really nice eye when it comes to composition!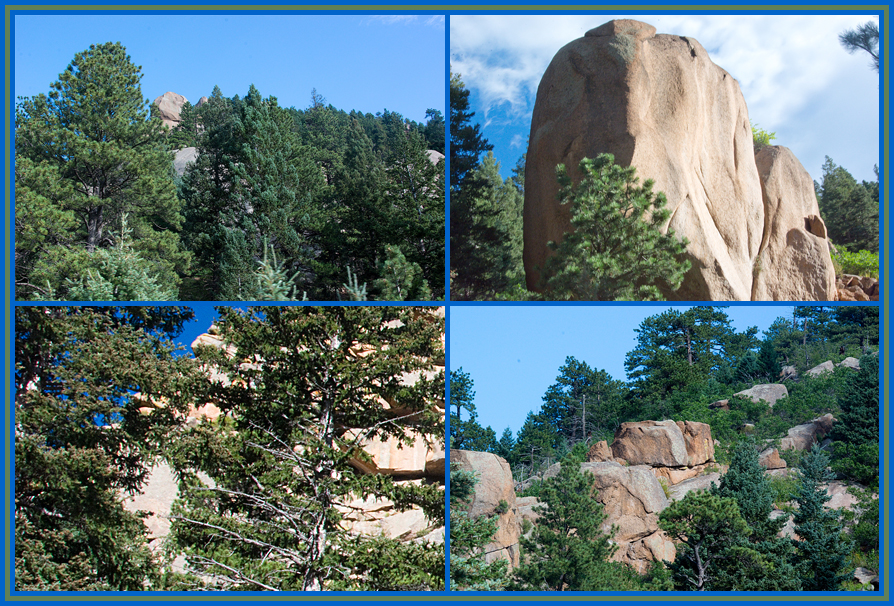 Once we reached the summit, my nerves finally settled down but by then the altitude REALLY started to hit me. It's a bit over 14000 feet above sea level at the summit of Pikes Peak and we started our ascent at a mere 6500 feet above sea level back in Manitou Springs. A jump that big had all 3 of us pretty light headed, as you can imagine.
I was actually surprised at how COLD it felt up there as well
(especially for a group of Texans)
! Temperatures were at a brisk 32F with a windchill of 22F -
in AUGUST
! I was so glad we were in jeans and jackets. We saw a number of folks that were dressed for life at the base of the mountain and were in shorts and tank tops!
There was even a bit of snow and ice on the ground, but we opted to head inside the visitor's center to enjoy some donuts and check out the view sheltered from the driving wind.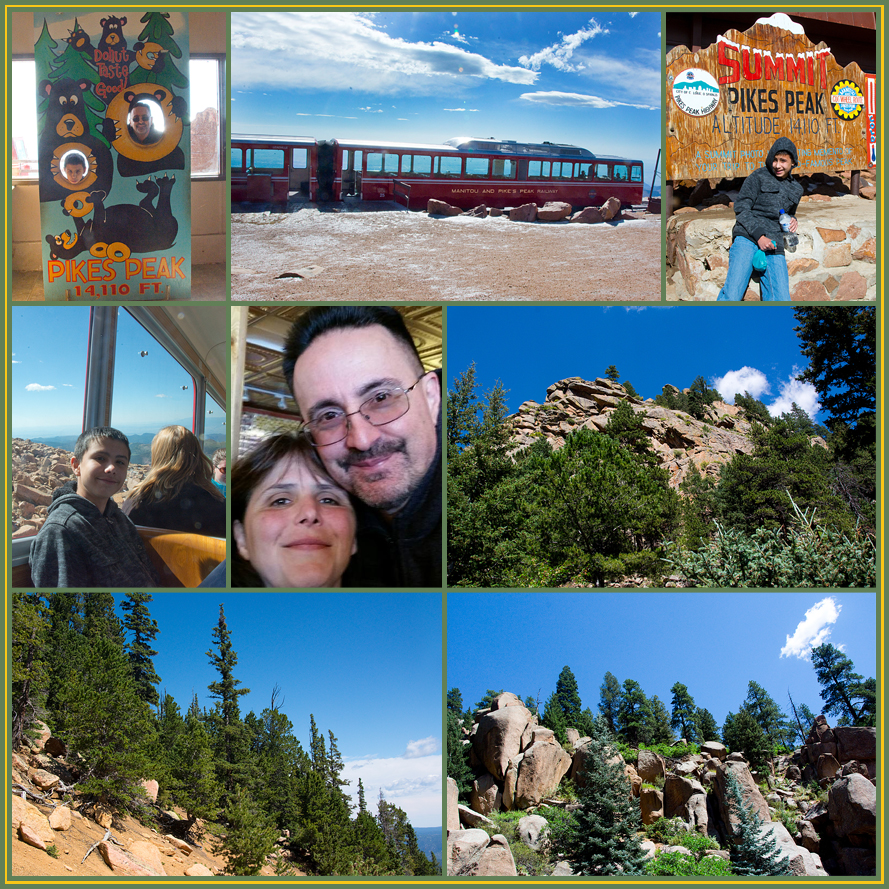 I am glad to say that the trip DOWN the mountain was a completely different story for me. I'm not sure why - the train didn't turn around, so I was still facing DOWN the moutain the whole way,
but this time I was OK
. And I really enjoyed soaking in the many sights I had not fully processed on the way up to the top.
We talked about it and, if we ever get to go back, we all agree that we
definitely
want to ride again! But maybe the next time we'll take the option to get off at the half way point and hike down the mountain. It looked like a SUPER cool hike! And maybe I won't have as much trouble with the heights if I am firmly on my own two feet.
Despite the strain on my blood pressure on the ride up the mountain, this little expedition is one of the true highlights of our trip. Even Wonder Boy,
in all his teenage apathy
, couldn't contain his enthusiasm. I would even dare to guess that this adrenaline rush of a ride might be the most memorable moment of our vacation. And you can't get much higher praise than that!