For our last afternoon in CO Springs, one of the Cousins volunteered to show us around the
Cheyenne Mountain Zoo
. She and Wonder Boy are only about 8 weeks apart in age, and though they haven't had much of a chance to just hang out together
(since they do live a 14-hour drive apart)
, they got along marvelously. We all really appreciated her tagging along - it made a fun little excursion even more enjoyable to have her with us. And on the plus side, she inherited her mom's sense of humor and kept us grinning and laughing the whole afternoon.
Like so many places in the area, the
CM Zoo
is simply picturesque! Just imagine - a zoo on the side of a mountain! The drive up was so pretty and the zoo itself was quite a lovely setting all in itself.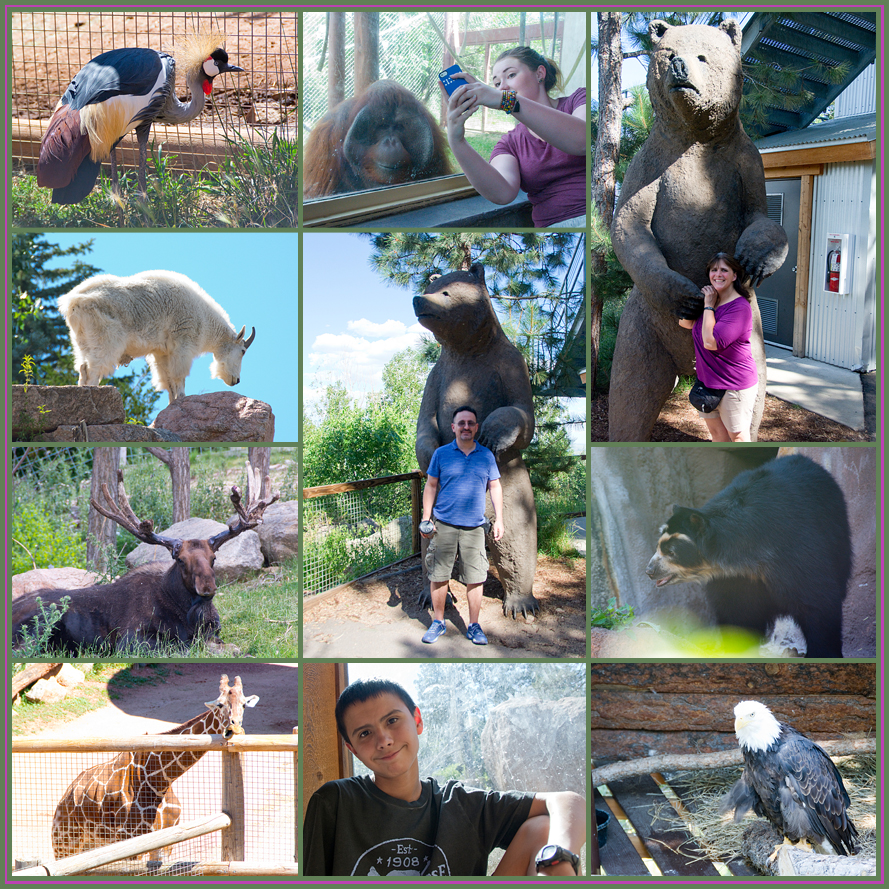 It was such a nice way to wind down on our last afternoon in the area. The zoo closes earlier than I would have expected, but I guess the sun dips below those peaks a bit earlier than flat-landers like I are accustomed to experiencing. We missed a couple of exhibits since we had to duck out before the gates closed, so I am going to put the
CM Zoo
back on my list of things to do the next time we come back to CO Springs.
On our last morning, after checking out of the hotel, we made our way over to
Manitou Springs
to stroll along the main drag and check out the local shops. Shopping is not one of Wonder Boy's favorite activities, but it was a beautiful morning and I'll be honest, I was not quite ready to bid farewell to this little patch of Heaven on Earth, so we kept schlepping him from store to store until we had made it all the way up and down the street.
One thing I started contemplating while we were walking along is the ever-growing list of things I want to do on our next trip to the area. There were a few things we missed out on this time like the
Broadmoor's Seven Falls
and the
Manitou Incline
. If we find ourselves visiting again in summer, then next time I would like to find some place to go white
water rafting
or maybe we could
bike Pikes Peak
. There are quite a few places I would like to hike as well including
Helen Hunt Falls in North Cheyenne Cañon
, the
Paint Mines Interpretive Park
, or maybe the
Cheyenne Mountain State Park
.
And even though we've already been-there, done-that, I don't think I could return to the area with out revisiting the
Garden of the Gods
and probably even the
Pikes Peak Cog Railway
again. I would love to see the
Garden of the Gods
in winter. And I bet the
Pikes Peak Cog Railway
trip in fall is something not to be missed!
Our time here may have been short, but I feel like I left a part of my soul there. So I guess I'll just
HAVE
to go back some day to re-claim it.