For day 13, I wanted to hit the lighter side of things when examining our Wonder Boy. And honestly, this is something that tickles my funny bone on a daily basis.
BATH TIME!
Yes, I'm serious. Bath time. Or, more specifically,
shower time
.
Not a day goes by that the Boy doesn't put up a fuss when we tell him it's time to get clean. We get the stereotypical exasperated sigh, usually accompanied by an eye roll, and the ever constant question "
Do I have to...
".
Every. Single. Time.
*sigh*
But once he's in the shower, he steps into another world! We don't really know what is going on in there - some kind of one man play is the best we can guestimate - and it's probably best that we DON'T know what is happening. Even when we warn him to "
be quick about it
," his showers rarely run less than 20 - 30 minutes as he sings and chats and
who knows what else
the time away. And while I am so pleased he is squeaky clean, it's something that makes me shake my head and giggle just a little every day.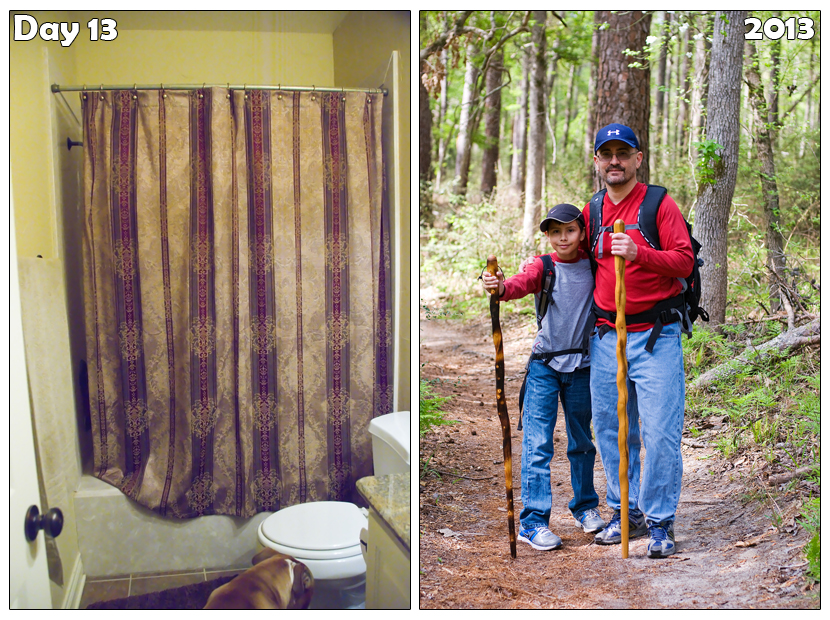 In our look back to 2013, we see they Boy and his dad on the hiking trail - one of our favorite places to be! This particular snap was taken on Good Friday that year when we visited the Huntsville State Park.
If you were to ask Wonder Boy straight up, he would tell you that he doesn't enjoy hiking. But his actions on the trail usually speak louder than those words.I find there is something really wonderful about unplugging and spending time outside. And while he may not want to leave his screens behind, he always seem to relax and have fun once we are out and about. I hope that, as he matures, he will understand that these trips are the kinds of memories that feed our souls.
And who knows, maybe one day, he'll drag a reluctant teen of his own on the trail as well.