As we near the end of this little project, we're going to focus in on a little viola love!
Last night the Boy got an early birthday present from his Dad and I ... a new bow for his beloved viola! We researched and then searched high and low to find just the right bow - our local supply is a bit lacking, so mostly this took place on-line. We had a little scare that it might not be delivered in time, but the stars aligned and his package arrive with a few days to spare.
Normally, we wouldn't dream of letting him get his hands on a present days early, but the day
AFTER
his birthday is his Region Orchestra tryouts for this year. And we wanted to make sure he had a few days to
"break in"
his new equipment before the big day.
As a special gift, the Boy treated us to about an hour of viola practice! It is always nice to have him play for us. Recently he has primarily opted for his guitar when he's in the mood to perform, so getting a viola concert was a bit of a treat for us! And to top it off, he brought it out again this morning for a quick practice run before he had to leave for early sectional rehearsals at school. I'm a very lucky lady indeed!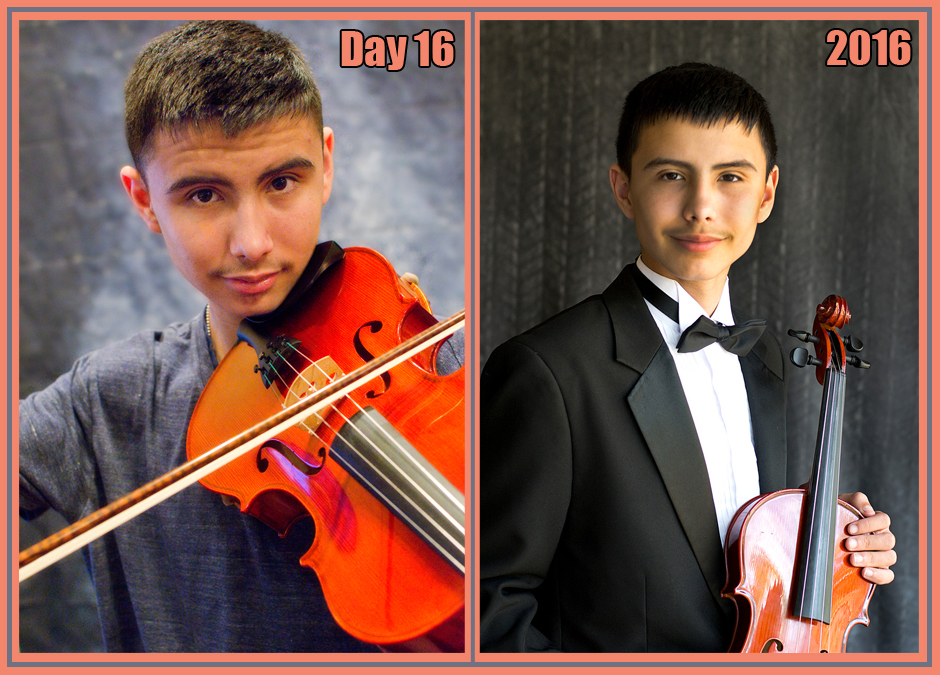 In our glance back at 2016, we see the Boy just a couple of days before his first concert of the school year. I used the fact that we had to verify that his tux still fit properly to squeeze in a little photo shoot on the back porch.
The concert that followed was truly beautiful, as they have all been.
It amazes me how far he has come as a musician since picking up his first little viola back in fifth grade. It was joining the orchestra that ignited his desire to learn to play the piano and eventually the guitar as well.
I do not know if I can ever express to his orchestra directors the depth of the gift they have given to him; to the whole family really!
I'm going to soak up the music while it lasts and hope that he will continue to play long after he has moved on past high school!