Well here we are on Day 10! We've made it double digits into the project this year and only have a few days left. I am enjoying it every bit as much this year as the past two years. And so far, Wonder Boy has been pretty supportive as well.
Today we feature the Boy with his boy:
When I look at this snap, I think Wonder Mutt looks like either a ballerina or a great white shark - I can't make up my mind. I'm pretty sure if we could read his mind, he would identify more with the shark than the ballerina though. Wonder Boy and the Mutt have a very special relationship. They share a room. And Wonder Boy was telling me just this morning that every night, the Mutt settles down on his doggy bed in such a manner that he always has an eye on the Boy. I think that is just PERFECT. The Boy will literally drag the Mutt into the computer room with him or up on the couch for a good cuddle. The Mutt is always under the Boy's foot at the dinner table. The two are just meant to be together!
In looking back to 2010, we are back to another martial arts snap. This time from the Boy's muay thai classes: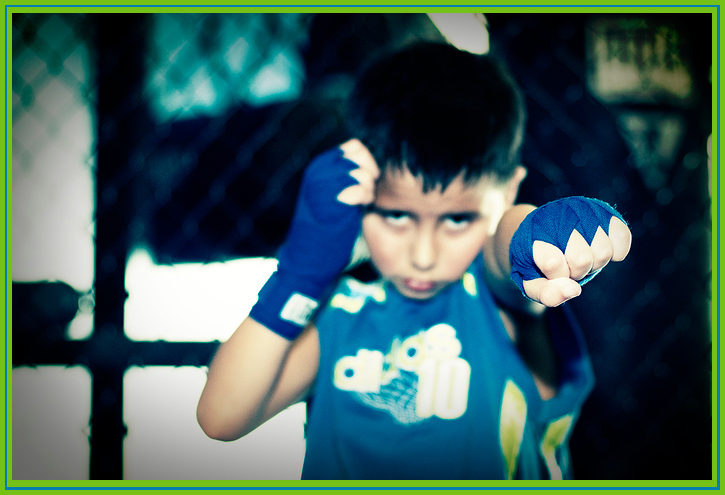 This was taken just a week or so before Wonder Boy started the 3rd grade. It turned out to be a real blessing to have him in the muay thai classes as his 3rd grade year was, unfortunately, the year he would have real struggles with a classroom bully. His years in martial arts had taught him plenty of ways to
AVOID
a fight and he did his level best to follow through with that. But when push finally came to shove and he had taken his fill, it also taught him how to stand up for himself. And even better than that, Wonder Boy's years in martial arts taught him how to stand up for those that cannot or will not stand up for themselves. This is one of those characteristics that make my heart swell with pride. With his academic life taking more and more of his schedule, we've had to temporarily step away from martial arts. But I hope that these are lessons he will carry with him always.