For Day 3 of this project, I wanted to highlight how much heavier the Boy's load has gotten now that he's started high school: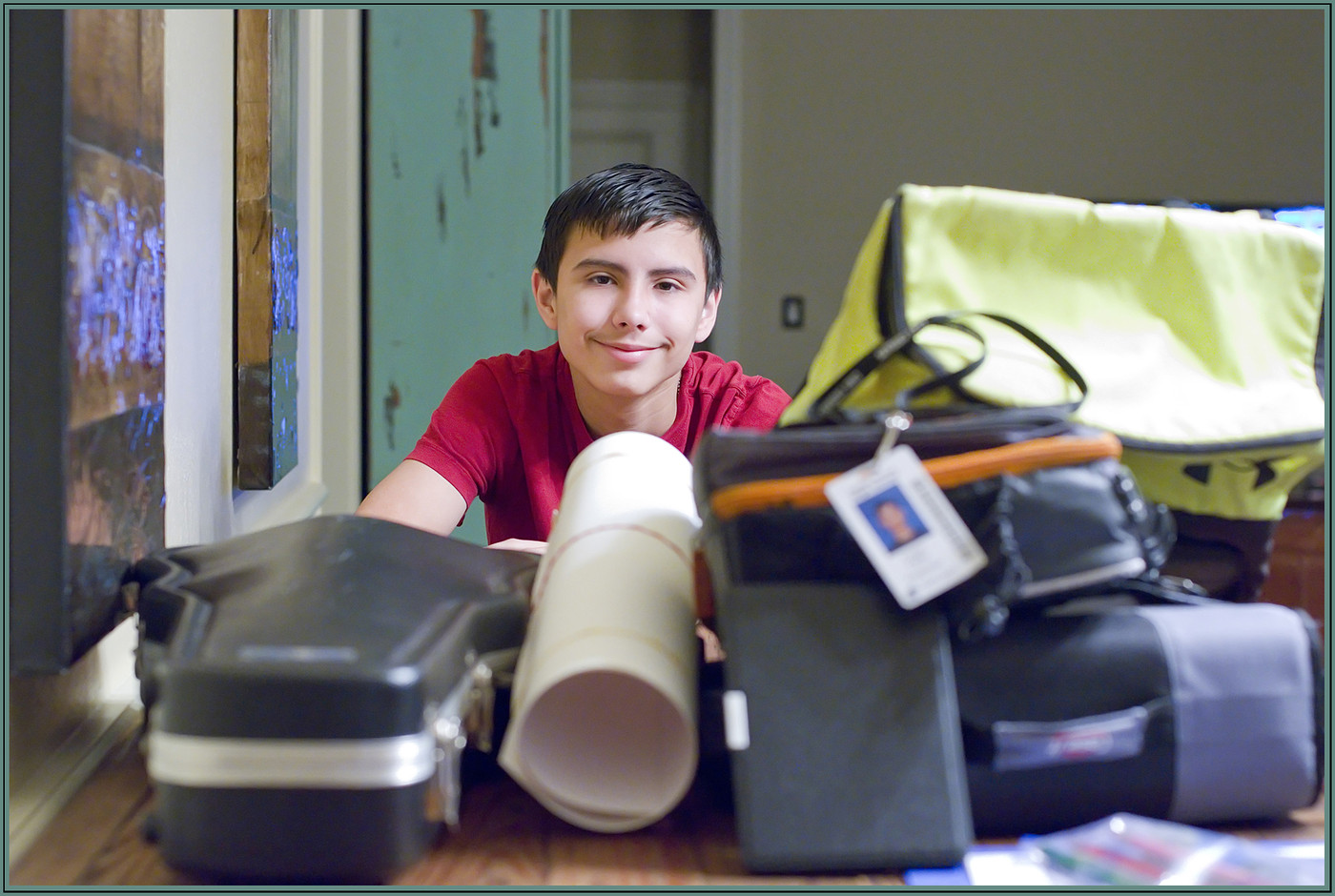 It has amazed me how much more he seems to have to shoulder
(literally)
each year. Every day finds him carting around his backpack with notebooks, text books, and lunch box, then he has his viola, his binder
(with the rest of his school supplies)
, and quite often there are extra projects and supplies that have to make their way back and forth between home and school as well. To top it all off, the Boy's school is pretty big
(by my standards)
. It's easily twice as big as the high school I attended, maybe even more. It has 3 stories and a ground floor. And the Boy's schedule is such that he doesn't stay on the same floor for any 2 consecutive classes. Before the year started, I might have worried about him not having a PE class this year. But he spends so much of his day running up and down those stair cases that I don't have to worry about that at all! He doesn't seem to mind the load. And he does have a personal locker and an orchestra locker to help with the load during the school day. But I know a lot of kids skip the locker all together and just carry everything everywhere. I guess that is good practice for when they move on to college.
In looking back to 2003 I'm going to share a big laugh with you all: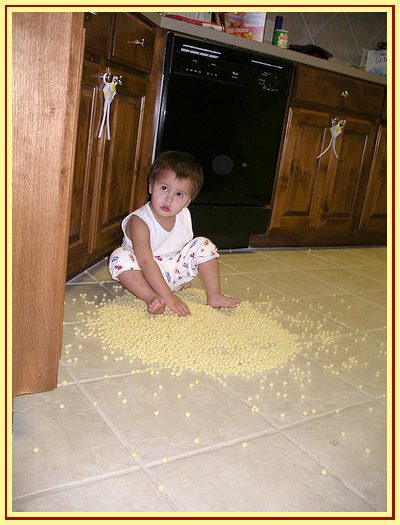 WHAT A MESS!
I don't recall the specifics of exactly what led up to this massive cereal explosion on the kitchen floor, but for some reason the Boy was left momentarily unattended not long before bed time. And in that short span when no one was looking, he managed to spy his favorite cereal of the day
(Kix)
on the counter. I'm not sure how he reached it - he must have jumped. But reach the box he did! And after reaching it, he proceeded to empty it out on the floor for easy access. He ate his fill until the shock of it wore off enough for us to pull him out of the middle of it and let the dogs enjoy one
HECK
of a late night snack! It took us
QUITE
a while to find every last little kernel of Kix, even with the help of the dogs. I swear they kept rolling out from strange places for days! But as frustrated as I must have felt that night, I can't help but laugh now when I see this snapshot. Just look at his face - he didn't see a thing wrong with what he had done. And I suspect a big part of him was just proud of himself for getting that snack himself.
Little bugger!