Today's photos seem very stereotypical for kids of Wonder Boy's generation. Technology has been, and continues to be, a huge part of his life!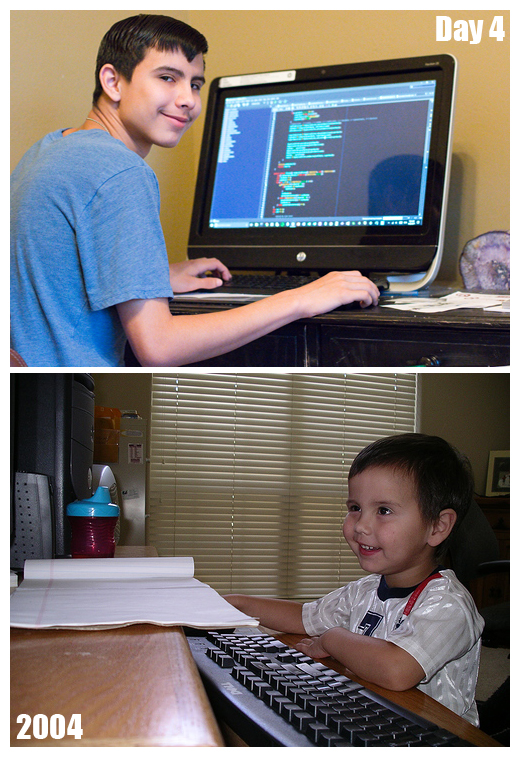 We know, when we are not sure where to find the Boy, there's a strong possibility we'll find him in the computer room, engrossed in some program, some video, or some tutorial.
There are many reasons to limit and monitor the use of technology, but at the same time, it is an amazing tool!
When we were young, if we wanted to learn anything outside of classroom material, we needed a trip to the library or we hoped some family member had a fairly recent set of encyclopedias. Today, when the Boy wants to check out something new, he need go no further than his computer! He spends more than his fair share of any given day parked in that chair, but he doesn't just wile away his time. Most days, we find him engrossed in some new math concept. He has been very driven to learn concepts of differential calculus for the better part of the summer and continuing into this fall
(despite the fact that he is just taking Algebra II at school)
.
He loves all things math, but he passed up Wonder Dad's and my level of expertise many months ago. So we are very thankful that he has a place to research his favorite topic!
In our flash back to 2004, we see our little guy happily enjoying a few moments of screen time. We can't see the screen here, but my guess is that he was playing a Micky Mouse alphabet game - it was his favorite back then. What I love most about this snapshot is the the look of pure joy on his face.
As you can see, the computer has been his "happy place" for many years now and that shows no sign of changing any time soon.