Wow! It's hard to believe that we're already more than a week into this project. And even more unbelievable is that there is barely more than a week to go until our countdown comes to a close. That's not helping my denial any.
For today, I wanted to show off another form of the Boy's creative side.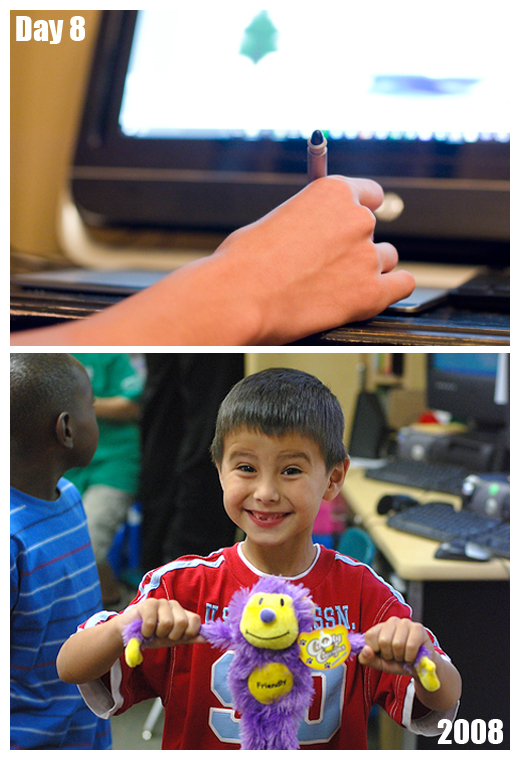 As I have shown in years past, the Boy likes to paint, he likes to draw, he likes to build ... he just plain likes to CREATE! And that is something I truly admire!
It may be hard to tell, but in this snapshot, Wonder Boy is playing around with his
Wacom tablet
. He's been playing around with this toy for a number of years, but in recent weeks, he's really started trying to learn how to use it properly. I love watching him create. He gets in a zone, focused on the end result. And when he's done, he gets down right giddy until he can show off his latest work. There are not many things that bring out that kind of enthusiasm in our Boy, but creating is always a good bet!
In our look back to 2008, we get the chance to see that giddy smile on his face! This time it was due to being recognized by his first grade teacher (Mrs. Good) for being the first student in class to read 100 chapters for the school year! She gifted him with this little monkey which he dubbed "Friendly, the Monkey." He kept that monkey in his room, in a place of honor among his pillows throughout elementary school.
Mrs. Good has retired now, but she lives in our neighborhood so we get the chance to run into her from time to time when she's out walking her dogs. She will always hold a special place in our hearts for igniting a special spark in our Boy. She showed him that, not only was it OK, it was
ADMIRABLE
to be an academic all star! The Boy is not ultra competitive in most areas of his life, but when it comes to his grades, he takes great pride in working hard to achieve his academic goals. And
THAT
makes us all smile that giddy smile!